I have a dream boot, a boot that is perfect in every respect, that fulfills my every criteria for a boot. It is a cowboy boot in a beautiful caramel-ey tan colour. It has slight curves at the top where the pull tabs are. It has a round toe, and the sole doesn't extend past the leather very far, if at all. It has a low heel, about an inch, which is fairly square, without too much of a cuban slant, but doesn't have a spur ridge sticking out. It has a little bit of embroidery, but nothing too ostentatious, in the same colour as the leather. It has a 14" or 15" shaft height, and it doesn't have a seam up the back.
Today, for the first time ever, I saw my perfect boot appear on my computer screen.
Tragically, this doesn't mean that my perfect boot exists. All it means is that I have taken a stock photo of my actual boots, and stretched them to be tall.
What I want to know is, why can't Ariat do that? I didn't even use fancy software, I just did it in Paint. All I want is my boots, which are youth size 5 Heritage Ropers, with a 14" shaft height, instead of an 8" one.
About the closest they do is the Crossfire, with a square toe, wide stiched sole, slightly cuban heel with a spur ridge and white flame stiching and flame pull tabs, with a very deep v curve at the top. Womens Heritage Ropers are 11" tall, and that's not enough when your legs look like twigs.
Mythical CGI non-existent boot to the left, availiable but not quite what I want Crossfire boot to the right
So, naturally, I've completely changed tacks, And, having spent the last 4 hours looking at pretty much every boot on eBay, I have this advice:

If you ever feel like looking for boots on eBay, go and bang your head against a wall until you get a concussion, and then go to the hospital. Don't take your laptop with you. Do not look for your mythical "perfect" boots on eBay. It will make you wish you
had
banged your head repeatedly against a wall, because it will make you feel as if you had, without the chance to get medical assistance.
Seriously, it's a bad idea. I ended up with 31 peairs of boots in my watch list, though I've since had a measure of my current boots and feet and have ruthlessly culled all the ones that I wouldn't fit into, leaving me with 15.
Of these, I am seriously considering four pairs.
First is the Melissa Button by Frye, and I'm worried it's a little too equestrian and not quite enough cowboy. They're at about $100 and postage would be about $45.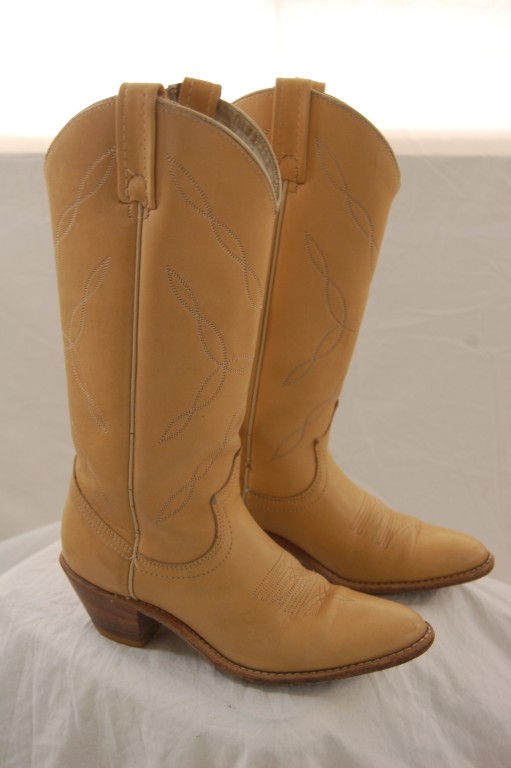 These are random vintage boots. I'm waiting for a reply about postage costs - They're buy it now for $45.
These are from Germany, and to get two pairs, this blue/grey pair and a pair in purple, would be about $110 including postage. I'm waiting on an email as to whether or not there is a seam up the back. If there isn't, I'm getting both.
As a result of all this, I'm gunna stop buying fabric for a bit. Not because I want to, but because I'll have spent all my money on boots, and wont be able to afford any fabric. But I've still got some care packages on the way, so I should be fine.