Firstly, I'd like to say I skulled 3 drinks in 30 minutes, so this will be even more rambling than my post about driving.
Secondly. I'd like to thank Kelsey, the Bitchin' Rock Star from Mars, for calling me upon request, and allowing me to escape from Darren, who's English, and thinks Australia is 30 years behind England, and that all immigrants should be shot in the head. Except him, since he's thinking about staying here.
Thirdly, I've written my first ever nice letter on blog #3,
go write a letter
, to the barman. It too is drunken and rambling, but, if I say so myself, quite sweet.
I've also written a letter to the guy in the beat up Supra. That's the usual mean Sara though.
Soooo...
Um.
Well, first actual bit of blogging is stuff that I forgot. I realised by the time I got into town (I met the 'rents at maccas before I left) that I'd left my frozen bottles of water, meant to keep my esky cold, in the freezer.
Then, shortly after I bought ice at Tailem Bend, I realised I'd left the 3-way 12v splitter in the van of love. I was gunna put 2 GPS devices head to head, and see which one was better*, but instead I stuck with mine, which performed flawlessly in every respect except it took my straight to the Clipsal parking and grandstands when I said I wanted to go to Rundle Mall. I just kept heading in what I thought was the right direction, and it kept on recalculating, and we got there fine.
The other thing I forgot? Um, well, the kinda important save-$40 vouchers that Helen printed out for me. They're at home, in a neat pile with the mail that's for us girls. Bugger. But Helen has forwarded me the email, and the backpacker place appears to have some kind of printing setup, so I should be fine.
Next is the story of my day. The first two and a half hours of the drive kicked arse. I have burned possibly the best beginning-of-roadtrip CD in the whole of human history. But then, right when the roads turn brown, I got bored. I sent Mum some SMS's to that effect, but she was unmoved. Seems it's only okay to be bored if you're in the passenger seat and have some handy movies to watch**
After Tailem Bend I got psyched again. Taylor was having a bit of a strop though The Hills on the way home last tiome we came up, but this time she was great. I even saw a BnS ute, and we were both at Longernong together last year (I didn't recognise it, but it had the sticker). So that was nice. After my GPS took me to see all the Clipsal parking lots and the back of some grandstands, I went to Rundle Mall, the plan being to spend $100 on fabrics at the Spotlight there and use a voucher. I did, and I did, but they're in the car, so no photos tonight, sorry.
I also got myself some lollies (guinea pig poo - I assume they have a real name but they're the little pink pellets from Darryl Lea) and bought some felt chocolate making kits from Morning Glory, which is a toats*** cute shop near the big food court that sells Japanese stuff.
After I found Taylor (it took some time, since where she was parked said level 2 on one side and level 3 on the other (it was level 2) I went to Burnside Food and Wine Noodle Bistro, which has possibly the bestested food in the whole entire world. It's so good, I'm gunna drive home in the dark tomorrow night, so I can have it again. Satay chicken sticks, 3 for $5.90. I'd pay twice, three times that much. They are so freaking good. I ate a double serve of them in the carpark of the Burnside Shopping Plaza, since I had to go there and get myself some coke (and Kelsey some diet coke)
The only bad thing about these satay sticks is you can't eat them while you're driving.
Then it was off to Kelsey to make some felt chocolates. I stayed till about 10, which is after visiting hours, but meh. We're rebels without a clock.
I love her. She's so beautiful. If I could dump the contents of my brain into her, so she could see all the great things I see, I would. I used words tonight, but they aren't quite expressive enough - tomorrow I may try interpretive dance. We talked to Helen on Skype but I forgot to put the movies on her laptop. Must remeber that tomorrow. She made 3 felt chocolates and I made two, but in my defence, I was using felt coconut.
Once I got to Cannon St Backpackers (where I'm staying) I found out that reception had closed at 8.30, despite the fact that the website had allowed me to list my arrival time as 9pm. I figure this was shoddy web programming, and went back to the car to have a look on the internets. It said that if I didn't stay I'd still get charged the $58, and that pissed me off. There's a bar attached to the backpackers, and I formulated this conversation in my mind.
Me: (Asks for a drink, depending on stock and price)
Bartender: (Gives me drink) Hi, where are you from?
Me: Mount Gambier, down south.
Bartender: So are you here for Clipsal?
Me: No, I'm here to visit my cousin in hospital, but I stayed late there and now I've got here the Backpackers is closed
Bartender: Did you have a booking?
Me: Yes, Sara Hosking. Should be a twin room, with about $58 to pay?
Bartender: Ah yes, Here's the key. $58 please.
And, do you know, it went pretty much excactly like that, except the drinks were passionfruit Cruisers ($4.50 each), The room still had $58.50 to pay and his part was spoken in a Kiwi/Maori accent. Which is all jolly good.
Then, because Kelsey had said she'd buy me $15 worth of Raspberry Twists if I hooked up with a backpacker, I had a couple more, until Darren (insert
Duh Duh Duuuh
here) started talking to me. Darren seemed quite nice at first, talking about Manchester United (AFL is still a whole week away, so I can overlook, for now) and the ability of a true English breakfast to cure a hangover but annoyingly, it wasn't long before he started talking about how Australia was 30 years behind England (something to do with their economy being better, except they had recession and we didn't, and the fact that out beer is stored in fridges, and theirs is stored in (some kind of hand gesture that apparenly means something 30 years ahead of fridges)) and about how immigrants to England should all be taken out and shot. Except that he'd just talked about emigrating to Australia, but apparenly this is okay because he's really into politics and he did a bit of an engineering degree and he's diesel mechanic. So that makes it okay. I sent a "help - please call me" message to Kelsey and she kindly obliged - I could have faked it but I wanted to share the horror. After all, it was her fault. She's kindly offered $7.50 worth of Raspberry Twist for my efforts. I've accepted.
And now I'm in my room, eating the rest of my chicken and cheese from today in a hope that it will ward off any hangover in a better way than Darren's English breakfast could.
Tomorrow, I get to meet my first "person off the internet" - Shay, I very much hope you don't turn out to be a creepy 50 year old man like everyone expects "people from the internet" to be.
I don't. This is what I think people from the internet are like.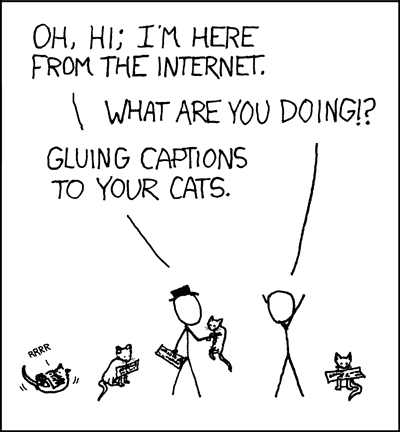 I'm aiming to leave here before ten and head straight to Clovercrest Spotlight (429 Montague Rd, Modbury), or if you wanna do afternoon, message me and let me know.
*in my mind, when you do this, they start talking to each other "No, don't listen to that bitch. It's the third exit. Trust me."
**I hope she reads this.
***toats is a word that gets used a lot in our house - it's short for totally.