Progress has been made with the room sorting, though after spending half the day at it and being maybe 1/3rd done, I'm way past ready to call it a night. Six tubs of random stuff, including two tubs of fabric, have been moved to the shiny new shed. There's 3 tubs still in my room - Two are holding up the extended arm of my sewing machine cabinet, and one has my to-be-backed-sometime-soon quilts in it.
Obviously because of the pulling apart of the room, I got no sewing done today whatsoever. I have however come up with quilt #49, and it's going to be my third quilt in Mingle - this time in the purple, green and brown colours.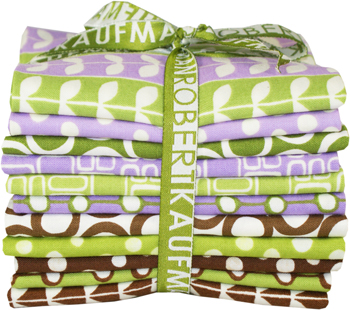 There's not really any math to this one, and I hate to say it, but there will be waste - not like me I know but I'm going back to one of my very early patterns, actually, the block is the same as on the 3rd quilt I made.
Except that the inside of each star will be the one fabric, and so will the outside of each star, and I'm gunna do it bigger than the three by three shown there - my original retro quilt was 3 1/2 by 4 and I'll be doing it that size.
I'm going to either quilt or make backings for two more quilts, and then (and I hope it's soon) get started.