The other night when I was feeling bummed, going on eBay to shop my sorrows away didn't really work, because I had randomly decided that the thing I wanted/needed to make my life complete was a bundle of the mingle fabric (same as I used for the wonky mini quilt)in the purple/green/brown colourway.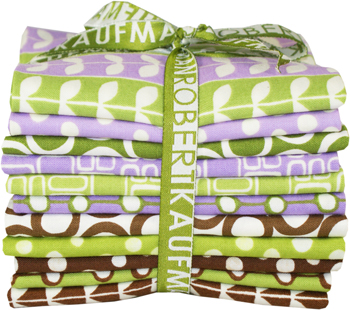 Noone had it on eBay and my short look around the internet failed to bring anything up, but then the internet is a bit too big to search thoroughly. This morning though I was doing my blog catch up, and the guy who quilts had done a post on a quilt he had received in a swap that was made of the same mingle colourway as the wonky quilt. At the bottom of the post he did some links to his sponsors who still had the range in stock, and the only bundle anyone had left was this one.
*happy dance*
Understandably it was A LOT more expensive than the stuff I'd bought on eBay - $23 compared to $15, and the postage was still $13, making it way over my usual $3 per fat quarter budget, so I bought 2 bundles and that made it $3.25 after the currency conversion, and that's reasonable.
Plus, since I got 2, I've got enough to do a very decent sized quilt, my usual size requiring 12, and I've got 20 to play with.
The bad news though is that I haven't made any progress on the quilting; since I needed to wash the backing sheet I took the time to sort through my junky tubs and clean out one of the cupboards. 2 big garbage bags of coats and dresses, mainly stuff that I got cause the ex liked, have made their way to the Salvos. Now though I need to hem some curtains for Mum, and then it's back to it.